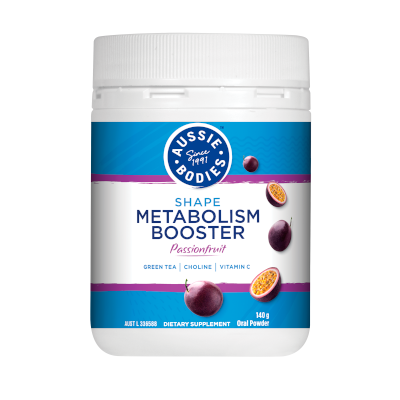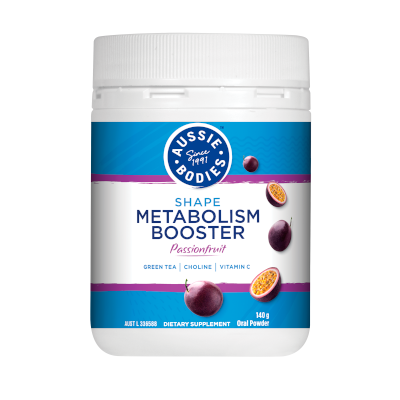 Shape Metabolism Booster
Passionfruit
---
Our metabolism booster contains choline which helps with fat metabolism. Our Pro-active Nutrition products help shape your body from the inside out.
Green Tea
Vitamin C
Choline
Nutrition information
Servings per package: 14
Serving size: 10g + 200ml Water (210mL)
Average quantity per serving
Average quantity per 100g
Energy
72kJ (17Cal)
34kJ (8Cal)
Protein, Total
0.6g
0.3g
Fat, Total
0.0g
0.0g
- Saturated
0.0g
0.0g
Carbohydrate
1.7g
0.8g
- Sugars
0.2g
0.1g
Dietary Fibre
3.6g
1.7g
- Corn Fibre
2.7g
1.3g
- Chicory Root Fibre
0.6g
0.3g
Erythritol
2.5g
1.2g
Sodium
1mg
0mg
Glutamine
0.8g
0.4g
Probiotic (Bacillus Coagulans)
1.7 billion CFU
0.8 billion CFU
Each serve (10g) provides: Chromic chloride hexahydrate Equiv. Chromium 10micrograms, Ascorbic acid (Vitamin C) 80mg, Choline bitartrate 900mg, Glutamine 1.5g, Camellia sinensis (Green tea) leaf dry extract 500mg Equiv. Camellia sinensis leaf dry 12.5g Equiv. Caffeine 10mg, Natural colour, flavours, sweeteners, acidity regulators, thickener.

Vitamin and mineral supplements should not replace a balanced diet. Contains caffeine 1mg/g, total caffeine 20mg per daily dose. A cup of instant coffee contains approximately 80mg of caffeine. Caffeine intake more than 200mg per day is not recommended during pregnancy and breastfeeding. The recommended daily dose of this medicine contains 476mg of sodium.